Chicago Internet Marketing
In this day and age, there are a variety of marketing options available. To stand above the competition, you need an exceptional message on a highly visible medium. At Silverback Creative, we focus on marketing techniques that provide real-time, measurable results.
Search Engine Optimization (SEO)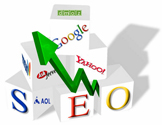 Search Engine Optimization is the active process of increasing your online presence and visibility within the search engines. There are hundreds of factors that affect your ranking but when properly managed, a SEO campaign can produce amazing results. As experts in SEO, we will develop a strategy that communicates your message while converting visitors into customers.
Paid Placement Advertisements (PPC, CPM)
If you are looking for a boost in targeted traffic to your website, paid placement advertising is a great option. After an initial analysis, we will perform extensive research to identify the appropriate markets to target for your online marketing campaign.
Performance Tracking

Tracking the performance of a marketing campaign is nothing new, however so many small to medium sized businesses choose not to. By utilizing new strategies and applying them to your marketing mediums, we can track a wealth of information about your visitors. Learn how customers find your website, their location, why they leave and more.
Stop speculating on marketing tactics and start making informed decisions based off the real-time data your customers provide!
Email Marketing
Email marketing is a cost effective way of updating your customers, employees or distributors. By using our email marketing platform, we can deliver customized emails that fit the identity of your business. Further, we can track your emails to understand readership and interest levels.